Microbiology Testing
Venture Laboratories offers a COMPLETE microbiology service laboratory for the food and dietary supplement industry. Food quality is a concern for  everyone and Venture Labs provides accurate, precise and timely testing to service the food industry. Time is money and we are fully aware of this critical detail. Venture Laboratories will coordinate with you to find the best option for testing your product. Our attention to detail and validated rapid methods explain why many major national producers trust their pathogen testing to Venture Laboratories.
We also have extensive experience in dietary supplement testing for microbiological quality including testing probiotics.
Venture Labs offers standard testing packages as well as individual assays including pathogen and microbial load of foods, nutraceutical preparations, animal feed, nonpotable water or the microbial ecology of anaerobic environments.
Venture Labs Assay Services Provided:
Enumerations
Coliforms and E. coli (FDA/BAM and USP)
Pseudomonas (FDA/BAM)
Total Aerobic Bacteria (FDA/BAM and USP)
Total Anaerobic Bacteria (Anaerobic Bacteriology Manual or Compendium of Methods in Foods)
Total Lactic Acid Bacteria (Compendium of Methods, LAB in Foods)
Actinomycetes (Standard Methods)
Yeasts and molds (USP and FDA/BAM)
Pathogen and Toxin Testing
Bacillus diarrhoeal enterotoxin
Campylobacter sp.
E. coli O157:H7
Listeria sp.
Listeria monocytogenes
Pseudomonas sp.
Salmonella sp.
Shiga Toxigenic E. coli (STEC)
Staphylococcus aureus
Staphylococcal enterotoxins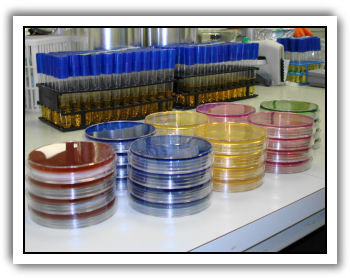 Probiotic Analysis (various methods – please inquire)
Total Lactic acid bacteria
Total Lactobacilli
Total Streptococci
Total Bifidobacteria
Total Bacillus sp.
Total Yeast
Microbe Identification
MPN counts
Ammonium oxidizing bacteria (MPN Methods of Soil Analysis)
Nitrosomonas and Nitrobacter (MPN Methods of Soil Analysis)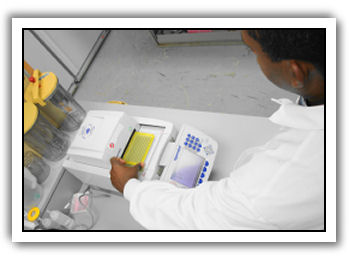 Isolation/Identification
Bacillus (FDA/BAM)
Clostridium perfringens (FDA/BAM)
Enterococci (Compendium of Methods in Foods)
E. coli O157:H7 (FDA/BAM)
Lactobacilli (J. Bacteriol.)
Lactobacillus (Compendium of Methods in Foods)
Listeria monocytogenes (FDA/BAM)
Salmonella (FDA/BAM and USP)
Staphylococcus aureus (FDA/BAM and USP)
Yeasts (FDA/BAM and USP)
Molds (FDA/BAM USP)
Mycotoxin Testing (AOAC, ELISA, TLC, HPLC)
Don't see what you need? Contact Us.  We offer many other assay options or will assist you with method development appropriate to your application, Sample Submission Form